ANTON A. VOYTENKO - SENIOR RESEARCH FELLOW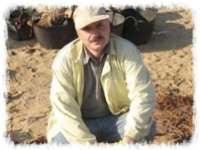 Scientific Degrees
Candidate of History (IGH RAS, 2002). Thesis title: 'Evolution of the Egyptian Monasticism in the 4th – the Beginning of the 5th Centuries.'

Activities
- Member of the CESRAS Mission to Deir el-Banat (Fayoum)
Publications
Author of more than 20 articles on history and culture of Ancient Egypt, including
Preliminary Report on Coptic Burial Custom at the Necropolis of Deir el-Banat // Belova G. (ed.) Achivements and Problems of Modern Egyptology. Proceedings of the conference held in Moscow on September 29-October 2, 2009. P. 392-400.
L'oasis de Jann ès et Jambr ès dans l'hagiographie monastique de l' Égypte du IVe siècle // Études coptes XI: Treizième journées d'études (Marseille, 7-9 juin, 2007). Paris, 2009 (in print).
Parents de l'empereur de Byzance dans les déserts d' Égypte: les Vies d'apa Cyrus (Cyr) et d'Hilarie la bienheureuse // Études coptes X: Douzième journées d'études (Lyon, 19-21 mai 2005) / Éd. par A. Boud'hors et C. Louis (Cahiers de Bibliothèque copte 16). Paris, 2008. P. 309-318.
Paradise Regained or Paradise Lost: The Coptic (Sahidic) Life of St. Onnophrius and Egyptian Monasticism at the End of the Fourth Century // Actes du huitième congrès international d'études coptes: Paris, 8 juin-3 juillet 2004. Leuven; Paris; Dudley, MA, 2007. Vol. 2. P. 635-644.